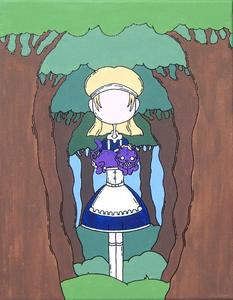 $

25.00
Title: Alice
Series: Malice in Wonderland
Size: 8×10in Print
Open Edition
By: Brian Gray
-This piece is titled "Alice". This piece is one of eight paintings I did as a part of my Malice in Wonderland series that featured all my paintings inspired by the tale of Alice in Wonderland. I have had a huge demand to make some prints of these pieces so I went ahead and made some high quality prints so everyone can have a little bit of my work without breaking the bank! Heres the details on these beautiful prints-
DETAILS OF PRINT:
Thickness: Ultra-Heavyweight (110#) Paper (similar to card stock)
Finish: Matte Finish
Details: This ultra-heavyweight (110#) paper with a matte finish is imprinted with a unique process that imparts a rich depth of imagery and an almost 3D-like effect. The prints are truly unique and capture every detail of the original painting.
Size of Print :8x10
Email Brian Gray at bgrayart@bellsouth.net if interested in a different size,paper type, framing, or if you have any other questions or suggested options for your print. We can work something out!
For more about me and my work vist www.bgrayart.com or do a Google search for Brian Gray Art and Ill pop up all over the place. Thanks for your interest in my work.